BREAST SUPPORT FOR EVERY WOMAN

Lie on your stomach without the pressure on your breasts
Our Award Winning Pillows are lightweight and versatile, providing comfort anywhere
Introducing the new Soft Pillow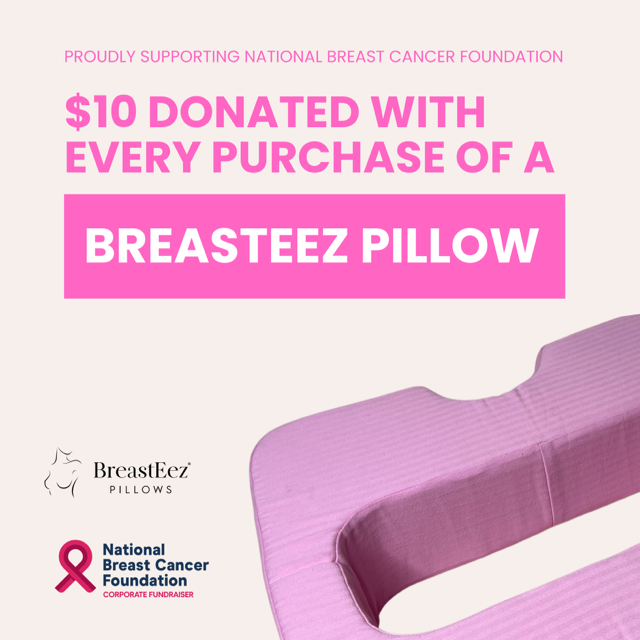 Your comfort is our priority
Wherever you are on your breast journey, BreastEez Pillows has you supported.

FREE standard shipping on all products anywhere in Australia!!!
Not only that but we are proudly supporting National Breast Cancer Foundation.
International shipping available; rates are calculated at checkout.
SHOP NOW
Lie on your stomach with ease & comfort.
At last, a supportive pillow to allow women to lie stomach down with no pressure on your breasts or chest area. BreastEez Pillows have been specifically designed to help alleviate the pressure and discomfort of laying stomach down due to different breast reasons: medical, cosmetic, hormonal or general support.

We are your Breast friend for comfort and support - not only nurturing your chest area, but also helping to alleviate muscle tension through the shoulders really allowing you to completely relax.

Created out of a desire to be comfortable, Jesse has spent the past two years perfecting the BreastEez design and is now ready to share it with you.



MORE ABOUT JESSE

BreastEez Soft Pillow

Lightweight and Versatile
Why our pillows are so comfortable?
BreastEez pillows are made from next generation Visco Memory foam. The ultimate in comfort.
Let yourself completely relax whilst taking the pressure off your chest.
Pillow Size: 52cm (L) x 42cm (W) x 14cm (H)
How to use your BreastEez pillow
1. Place your BreastEez pillow down on where you would like to lie
2. Place your breasts in the hollow area - the semi-circle should be at the top for your chin/neck to comfortably relax into
3. Find your comfortable position by adjusting if necessary
4. Relax and enjoy!
Frequently Asked Questions
When to use BreastEez Pillows?

The great thing about our pillows is you can use them anywhere!

What therapies or activities do you love doing, but find it uncomfortable because of your chest area?

BreastEez has been designed to help alleviate the pressure women feel on their chest area when they lie stomach down- the list of places to use your BreastEez is endless!
How can BreastEez Pillows help me?

BreastEez Pillows can help take the pressure off your breast and chest area whilst laying stomach down, allowing for total comfort and relaxation in the body.
Can I remove my covers for washing?

Yes, our pillows are covered in a removable, machine washable medical grade fabric.

Please see care instructions on the inside of the cover for directions.
BreastEez for business
Massage, yoga, pilates, physio, tattooing, acupuncture and more...


Say goodbye to rolled up towels!

Allow your client total body relaxation; supported shoulders, no pressure on the breasts.

With next geration memory foam inside and a removable, washable, medical grade fabric outside, you and your clients will love BreastEez.



MORE ABOUT THE PILLOW
Australia's No 1 choice in comfort for breast support pillows
Regular price
Sale price
$12.00 USD
Unit price
per
Regular price
From $102.00 USD
Regular price
Sale price
From $102.00 USD
Unit price
per